Copying you're existing Stair Spindles and Newel Posts is our speciality.
Email a photo to thestairguy@gmail.com for a quote
Stair Spindles Newel Posts Handrails Baserails
© Copyright the Stairguys 2013©
We have profiles for over 600 Stair Spindles and 300 Newel Posts
All of the Stair Spindles and Newel Posts can be supplied for new or refurbished Stairs. If you cannot find the design you want we can make a new pattern to your preference.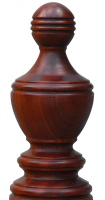 For a superior Copy all of our Stair Spindles and Newel Posts are made using a purpose made Template and not Copied from the old Stair Spindle, Remember, Stair Spindles for a Cut String type Staircase need two different lengths of Spindle, Please note this when ordering.
Of the Stair Spindles we have on file, around 80 are our own designs and over a further 500 or more produced in the past are Copies made from Customers existing Spindles and Newel Posts, so the chances are we already have a Template very similar to your own Design, if not most Stair Spindles and Newel Posts can be Copied, including the many Victorian and Edwardian designs.
We can also Copy Handrails and other Moldings to match originals.





Stair Spindles no1 to no24
Stair Spindles no25 to no48
Stair Spindles no49 to no 72
Stair Spindles no73 to no96






A good proportion of old Stair Spindles and Newel Posts were made by hand so although the same pattern might have been used by different wood turners, the setting out of the design always varied slightly so although they look the same when viewed in a photo the difference becomes apparent when viewed next to other Stair Spindles of the same design .
Remember that a Cut String Staircase needs two different lengths of Stair Spindles, it is important to mention this when ordering.
It is also worth mentioning that Newel Posts sometimes need to be supplied with two Handrail blocks so it is always best to send photographs of your project so we can advise what you need to order
Fitting of Stair Spindles, Newel Posts and Handrails
If you are fitting your own Stair Parts, take a look at our How to fit Stair Spindles and Newel Posts page for a look at the process we use, and learn some useful tips.